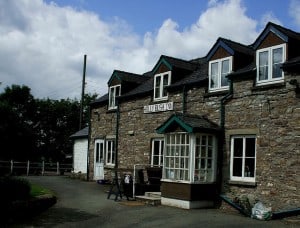 Barbara Lewthwaite, Landlord of The Hollybush Inn – Hay on Wye, Powys, is something of an local eccentric, in a vision from God she was told to run a community. It made some sense then – that Barbara move to a small idyllic town such as Hay on Wye and take over a pub, surely the cornerstone of any community spirit.
Barbara recently appeared on the Hotel Inspector, Channel 5's observational hotelier documentary. Issues with staff turn over at The Hollybush Inn led Barbara to seek help from the shows over qualified presenter Alex Polizzi, and The Hollybush Inn has been reborn. And it's something of a phoenix pub if first accounts are anything to go by (source Wyelocal.com). Barbara has put a lot of effort into the new 'community spirited' Hollybush Inn,… although with such dramatic changes in such a short space of time one does wonder if after a few months it will look like the Hotel Inspector had ever been there, but only time will tell.
Barbara recently also appeared on local BBC news, she loves the river Wye (Afon Gwy), the fifth longest river in the UK – it forms part of a natural border between England and Wales, virtually unpolluted it's one of the best salmon fishing spots in the country.  And it's her love of the beautiful river Wye that has made Barbara want to swim the length of it, from the source in the Welsh mountains at Plynlimon to its mouth near Beachley, Gloucestershire for the BBCs Big Splash – an inspiring scheme to get UK residents swimming on a regular basis. In some places the river Wye is too shallow or too treacherous for swimming, but Barbara vows to swim as much of it as she can for charity. The river is 215 km long, that's about 134 miles, it's not going to be an easy feat for Barbara to pull off. But with a personality as big as Barbara's, and God on her side, we've every hope that she will succeed.
If you'd like to show your support for Barbara you can add a comment to our blog, write a good will message on BITEs The Hollybush Inn pub page, or join in the conversation on our Facebook page. Cheers!
Today's blog post image was supplied by Flickr user and real ale fanatic "Everything That Happens".