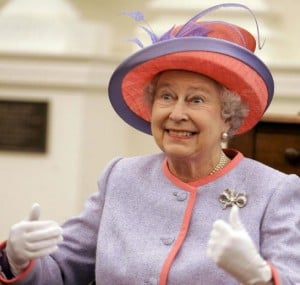 It's her Royal Highness Queen Elizabeth II's birthday tomorrow (Sat 11th June).  And if you're down the pub, remember to raise your glass to the Queen.  Born on 21 April, 1926 at 17 Bruton Street, London, if you are near Bruton Street tomorrow you might want to pop in for a pint at the Coach and Horses, one of our BITE users mentions the pub is "… an excellent and popular little pub. Terrific value for money."
The Queens birthday is officially celebrated in Britain on the second Saturday of June each year. The day is referred to as "the Trooping of the Colour", the official name is "the Queen's Birthday Parade". Over 1,300 soldiers from the Household Division parade for Trooping the Colour together with over 200 horses and more than 400 musicians, also a fly past is scheduled for the day including some of Britain's most prestigious aircraft like the Spitfire, Lancaster and Typhoon. You can read more about the celebration on the Armed Forces Website.
So, Happy Birthday (once again) to the Queen, cheers!
If you'd like to leave a comment you can do so in our comments section below, or by joining in with the conversation on our Facebook page.