BITE had a great time at the 2011 Great British Beer Festival, it's fantastic value for money and the perfect day out for any beer lover, with a lot of beer drunk, some wild boar curry, a few pork scratchings on board and a lovely smile from Mrs Kebabs (Mr Kebabs supposed wife)  – here's our round up review of this years event organised by CAMRA.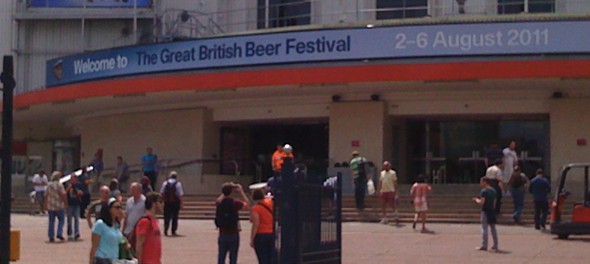 London was in a state of blistering humidity on Wednesday, refreshment was one thing on every persons mind.  What better way to stay refreshed than drinking some beer in the cool climate of Earls Court, a sanctuary from the heat of the day and with more than 700 real ales available under one roof BITE headed into the Great British Beer Festival, the biggest pub in the world.

We first approached the Lister bar for some Dark Star – Hophead, a nice light pale ale with a low ABV (3.8%) to get the day started, the plan was to wander once round the outside getting a taste for our next beer of choice, but all good plans go to waste, we ended up at the Harvey bar gravitating towards the curious Chocolate Orange Stout they had on offer. Even though this was only the second beer of the day, the Abbeydale brewery Chocolate Orange Stout, with it's dark chocolatey taste, hints of coffee and bitter orange this became the most memorable beer of the day in terms of taste, the concoction really deserved the top spot in our top "top 10 beers of the festival".
We found ourselves next at the Jenner bar, maybe it was the beautiful nurses pulling pints that made us stop, and here we got stuck into some Flying Elephants (Ulverston brewery) a really nice low ABV (3.7%) pale beer, with a clean, crisp taste – said to have been brewed to commemorate one of Cumbria's great exports, Stan Laurel of Laurel and Hardy fame.  This being the third pint of the day, we certainly started to smile like Stan, "we certainly did Ollie".
At the Black bar we were going to sample some Commando Hoofing (Cotleigh brewery) but being ex-Glastonbury goers, whenever we see the word "Glastonbury" we're always reminded of English Summers, shorts and wellies, poorly played acoustic guitars round smoky camp fires, and a certain nostalgia builds up inside us.  We opted instead to to try the Glastonbury Hedgemonkey, and it was a good choice, this bitter was strong, powerful stuff, but quite flowery aromatic at the same time, we only wish we could have tasted it at the Glastonbury festival itself.

After a quick stop at the Bombardier bus to drink to Rik Mayalls aggressive humorous streak we moved on through the swelling crowds to the Hastings Bar, this was ultimately where we seemed to make a faux-camp for the rest of the day, all going off and doing different things but coming back to this one meeting point.
Being camped right beside it, it was the Hastings bar then that took most of our money as we quashed some pints of Ghost Ship, Broadside, Moonshine and Gorlovka, Adnams – Ghost Ship being the favourite another half pint each went round so we were all in agreement, but by now we're starting to get sea legs, and thinking of weighing anchor and finding some food.

Mr Kebabs really earned his name, the lamb-shish was perfect, but notable culinary skills have to go to the Wild Boar Curry we tried,  where the wild boar was sourced from we neglected to ask, but we've got it on good authority that the boar in question was indeed 'wild', perhaps too much emphasis on the fact that it could have been a party animal before becoming a curry ingredient…
After a quick chat to Lara (yes there were lots of beautiful women at the festival) from Oktoberfest London we ended up back at our point of entry at the Lister bar for some Ramblers Ruin (Griffin Inn) we certainly felt like we'd been rambling for a while now and were in need of some refreshment, Ramblers Ruin was a dark hoppy bitter with a really nice biscuit after taste.

On a scorching hot day, it was time to cool things down with some Ice Maiden (Hart brewery) from the Nightingale bar, and some Moorhouses Black Cat, … ok and some Newbury Wyke White Squall. Feeling tanked up again, we wandered around the various pub games going on, a fine display of skittle skills was being shown off, as well a some archery like marksmanship on the dart board.

It was then we wound up at the Gray bar, for some halves of Oakleaf – Some Are Drinking a very clean gold pale ale.  And some Grainstore – Rutland Panther, a nice low ABV ale to finish the day off.


Edging north into the countryside on the train home, we watched the last minute of the sun creep behind the hills, reflecting on the day we all have to say, what great value for money a day out to the Great British Beer Festival really is, we met some really wonderful people and the Earls Court venue is not just accessible for any traveller, it's got the right amount of facilities i.e. toilets to cater for such a large crowd of drinkers, service at each bar was swift we never waited more than 30 seconds to be served.  We also mentioned how hot it was today, but inside Earls Court the temperature was nice and cool, the atmosphere laid back and friendly, and we loved the English custom of; if anyone drops their glass and it breaks the whole crowd lets out a "hooray!" So here's looking forward to the Great British Beer Festival 2012!
If you've any comments feel free to leave them in our comments section below, or join in the conversation on our Facebook page. Cheers!