Of all the beers we sampled at the 2011 Great British Beer Festival, we drew a short list together of the top 10 we recommend, in reverse order, drum roll…

10. Acorn – Golovka, (Stout) 6.0% ABV
[Purchased from the Hastings Bar]

9. Adnams – Broadside, (Premium ale) 4.7% ABV
[Purchased from the Hastings Bar]

8. George Wright – Pipe Dream, (Bitter) 4.3% ABV
[Purchased from the Nightingale Bar]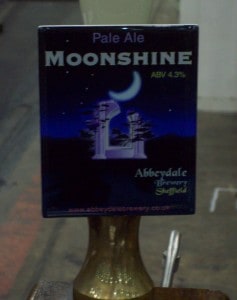 7. Abbeydale – Moonshine, (Pale Ale) 4.3% ABV
[Purchased from the Hastings Bar]

6. Adnams – Ghost Ship, (Pale ale) 4.5% ABV
[Purchased from the Hastings Bar]

5. Hart of Preston – Ice Maiden, (Bitter) 4.0% ABV
[Purchased from the Nightingale Bar]

4. Griffin Inn – Ramblers Ruin, (Beer) 4.1% ABV
[Purchased from the Lister Bar]
We're now getting to the top 3 beers of the festival as recommended by BITE, things are getting serious, this is thirsty work comparing these last 3, it's going to be a close call for the top spot!

3. Ulverston – Flying Elephants, (Pale Beer) 3.7% ABV
[Purchased from the Jenner Bar]

2. Glastonbury – Hedgemonkey, (Bitter) 4.6% ABV
[Purchased from the Black Bar]

1. Amber Ales – Chocolate Orange Stout, (Stout) 4.0% ABV
[Purchased from the Harvey Bar]
Of course there were so many beers, stouts, bitters, ales, ciders, , wine on offer – as sensible drinkers even we could not sample everything, we apologise to any brewer who thinks their products have been overlooked. And… winner of the best t-shirt must go to this gentleman, huzzah!
We'll be back tomorrow with a round up of our road trip to the Great British Beer Festival 2011, if you'd like to leave a comment you can do so in our comments section below, or by joining in the conversation on our Facebook Page.