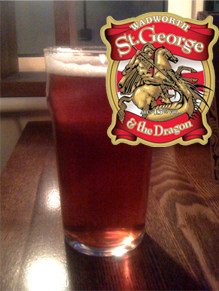 I found this seasonal ale in the Brown Jug (Cheltenham).
Last year (2010) the landlord of the Brown Jug made it a local mission to celebrate St. Georges Day. The pub decked out in St. George's cross bunting, only served traditional English food (Chicken Tikka Masala?) the landlord himself getting into the spirit of things and wearing a suit of armour behind the bar. The Brown Jug served St. George and the Dragon then in 2010, and it continues the tradition this year by restocking it. A seasonal ale only available during March and April, I guess I was lucky to get hold of a few pints before it went into hiding again.
Brewed by Wadworth Norgate Brewery with a 4.5% ABV it's certainly got the firey look about it as described by Wadworths themselves. Very bitter first few sips, thirst quenching in fact, with a strong malty taste, followed by the sharp citrus hops after-taste which gives it some kick, half way into the pint things mellowed out (or perhaps the alchohol numbed the taste buds), I have to say I was sad to see the head go flat which for me is always a soother against the sharpness.
The after taste is quite potent and heavy on the palette so do not drink this and try to chat up women, at least not without stuffing mints into your mouth, and if you do that you may as well move onto fizz-kegs as your real ale tasting night is through. That aside, I did stick with it for the night, topping up 3 more pints with this patron saint of beers.
Is your pub celebrating St. Georges Day on the Saturday 23rd? Have you drunk a pint of St. George and the Dragon? Don't forget to leave your comments!
Brewer: Wadworths
ABV: 4.5%
Drunk at: Brown Jug, Cheltenham